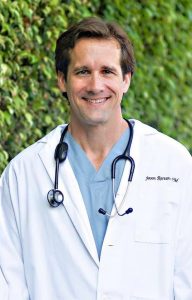 Dr. Jason Rattan has been practicing since 1995. He's worked with all kinds of animals, from pocket pets to large breed animals. He started out working at a hospital on the edge of Dallas/Ft. Worth Texas. He moved into practicing with cats and dogs because he really enjoys cats and dogs and says they are his favorite. Dr. Rattan lives in the Hollywood hills with his Whippet, Sunny. He loves the peace and quiet of the hills because he gets to see nature and sometimes is lucky to spot coyotes and deer on the same day. He purchased Park La Brea in 2005 because he loves the small community feel of the Fairfax District. He loves being a vet and feels being a vet is the perfect fit for him because he loves helping animals. In his spare time, when he's not enjoying nature, he loves to read.
---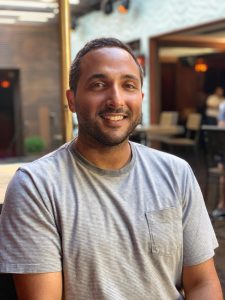 Dr. Kiarash Safatian (Dr. Kia) grew up in Los Angeles, California. He graduated Summa Cum Laude from the University of California, San Diego. Dr. Kia earned his Doctor of Veterinary Medicine degree from the University of California, Davis. He has a passion for animals, the outdoors, and sports. He truly loves working with dogs and cats of all types, but has a special place in his heart for shelter animals, especially pit bulls. He and his wife have two rescued pit bulls, Jimmy and Theo. Dr. Kia spends his free time with his wife, baby, and Jimmy and Theo.
---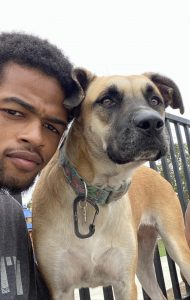 Tavion (Veterinarian Assistant) is an Army Veteran. His simple pleasures include spending time with his service dog Lulu, going out to eat, and going on different adventures around Los Angeles. Since getting out the army in 2019 Tavion has personally cared for more than 15 different sized dogs and cats.
---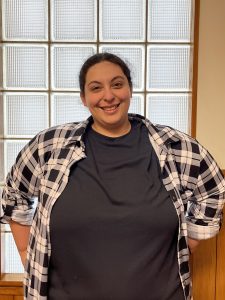 Natalie (Receptionist) likes to watch silly animal videos and play video games in her spare time! He loves his job here at Park La Brea Veterinary Care because it gives her the chance to help animals in need and express her love for animals in a fun and productive environment!
---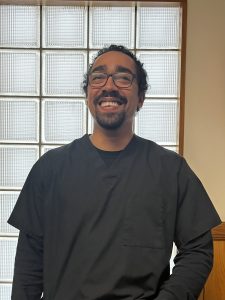 Jacob (Veterinarian Assistant) has a degree in biology from Dominican University of California. He has 2 small dogs, Thor and Bolt. He loves playing basketball and trying new spots around town to eat, especially while he's on his lunch break. Jacob is the go-to guy when dealing with technological difficulties and he helps our patients travel by gathering and submitting all of the necessary requirements for health certificates with the USDA. He has always had a love for animals and now enjoys having the opportunity to put that love to action.
---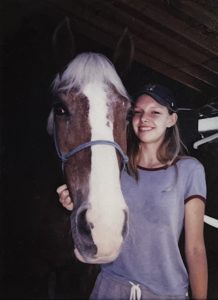 Hazel (Office Assistant) was born in Albuquerque, New Mexico and grew up in Los Angele, California. Before she worked here, Hazel brought her animals here. She worked here throughout her senior year of high school, before attending UC Davis, and rejoined the team in 2022. She has 2 dogs, Big Girl and Slug, and 2 cats, Henry and BlueBlue. When she is not at work, her favorite days are spent at the barn with her horses, Lakota and Tess. She enjoys being able to positively contribute to the lives of animals and strives to always do better.
---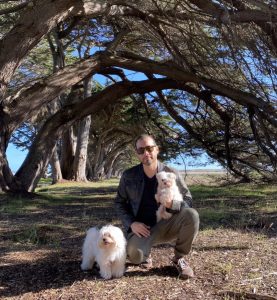 Francisco (Veterinarian Assistant) grew up in Southern California and currently resides in Los Angeles. He has been in the industry since 2006. He has two dogs, Campanita who is 12 and Leo who is about to turn 15. Outside of work, he enjoys road trips, visiting national parks, and traveling the world.
---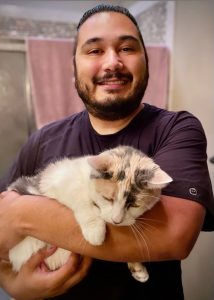 Jonathan (Registered Veterinarian Assistant) has been at Park La Brea Veterinary Care for several years. He enjoys helping in surgeries and dentals. Jonathan thinks the best part of his job is getting to see and take care of all the different pets that come in. He enjoys spending time with family and his 2 cats, Mombi and Tiny Tim.
---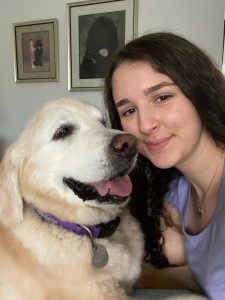 Maddie (Veterinarian Assistant) was born and raised in Los Angeles and is currently attending undergrad at UCLA. Her love for animals and medicine has her aspiring to be a DVM. She has been shadowing since 2017 and started working at Park La Brea Veterinary Care in 2021 as a receptionist and transitioned to a veterinary assistant. Maddie doesn't have any pets at the moment but helps with her family members' dogs and can't wait to get a pet when she goes to Veterinary School. Maddie loves being creative whether it be cooking, painting or sculpting. She also loves going on road-trips, watching movies and riding horses.
---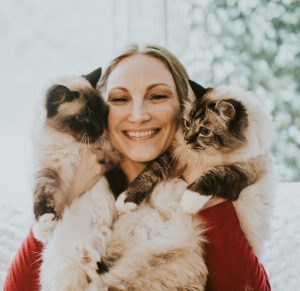 Camilla (Practice Manager) is the practice manager. In her free time she enjoys learning about sales taxes, listening to heavy metal music, and drinking beer. Just kidding! She's not a fan of any of those things – even though she's German. Her two cats Simba and Balou are also from Germany, and she's been taking them Dr. Rattan since they moved to LA. What she loves about her job are the cute, furry patients, the awesome staff, and exceptional doctors. So much so that she says she will even do the sales taxes.
---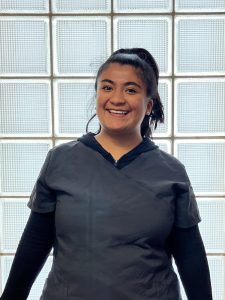 Stephany (Receptionist) is 19 and comes from Hispanic roots. Her mom is Mexican and her dad is Guatemalan. She has a wide variety of interests but out of all the things she loves doing, binge watching romantic comedies is at the top of the list. Stephany loves winter simply for the fact that it reminds her of Christmas, her favorite holiday. She lives for the Christmas spirit. Currently in school to become a Vet-Tech, Stephany had 2 cats and now has a pug puppy named Troy. Although he's a total demon, he made her realize how much she loves and cares for animals.