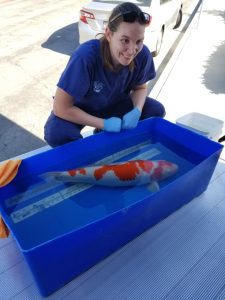 Mobile Animal CT performs scan on a Koi.
[Oct, 2019 – Torrance, CA] Today Mobile Animal CT of Southern California had the privilege of working with Dr. Jessie Sanders, DVM, CertAqV from Aquatic Veterinary Services.
Dr. Sanders is shown with the Grand Champion Koi before the procedure and administering the IV contrast.
We would like to give a special thank you to Dr. Kathryn Phillips, DVM, DACVR from UC Davis who will interpret the CT image series and help provide answers for this beautiful Koi.